Welcome to the 13 Days of Halloween
I'm a few days late with getting this out and wrapping up another 13 days of Halloween countdown. But sometimes, life throws us a gut punch, and we need to take a minute to catch our breath. So, as is tradition, I share with all my readers my annual Halloween party that I co-host with a couple of muh besties. If you'll remember, last year was canceled due to the pandemic and shizz. That was a sad fuckin' day!
Anywho, I want to just chat for a minute about friendship, well, I guess more about just relationships in general. I don't know if it's because I'm getting to be old AF (birthday approaching), or because in this past year and a half I have come to truly value the people and support I have in my life, or because of the sudden and unexpected loss of a friend. Hell, it's probably all of the above and a little bit of everything.
I'm looking through the Halloween party pictures, and I can't help but smile.
Everyone was having such a good time; I hadn't heard my kids laugh that hard or often in quite a while. And I've come to realize that those moments where we simply allow ourselves to be silly and adventurous are just as important as the moments of self-exploration and growth (you know — the really painful shit, lol). Because as much as it's true that we do the most growing and "bettering" of ourselves during our most difficult times, I am finding that it is also true (and equally important) that during the best of times, we acquire the fortification to come out the other side of those dark times whole.
I guess what I'm trying to say is — make the time for those you love and who are most important in your life.
And don't try to protect yourself from love and friendships because you've suffered some deep pain and want to protect yourself from ever feeling that kind of hurt again. That's not living. Be honest, true, and kind. And above all else, don't be afraid to live, love, laugh, and tell fear to fuck off!
All the pictures I shared in this post as well as the ones in Costume Commandos and even My Bitches Be Witches from last year, are pure joy and love. And according to the Beatles, that's all ya need. Let's get started . . .
In this post
song of the day
costumes
cocktails
---
---
image source
---
Song of the Day
If I were to have a theme song, it would surely be this one, and sang by her — no other version will do.
---
---
Costumes
image source
---
---
---
Cocktails
image source
Yes, I realize I've given you only cocktail recipes to try. But, seriously, are you even mad about it? Enjoy!!
---
Halloween Cocktail- Purple Martini
Original recipe found here.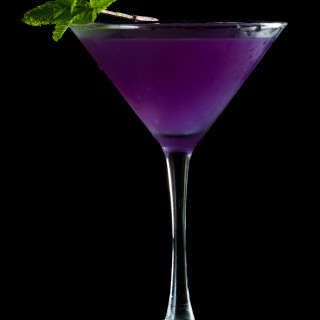 Image source: Big Oven
Ingredients
3 ounce Vodka
1 1/2 ounce cranberry juice
1/2 ounce blue Curacao liqueur
1/2 ounce sweet and sour mix
1/2 ounce soda 7-up
Directions
Line rim with sugar!
Pour the ingredients into a cocktail shaker and shake gently.
Add more blue Curacao if the color isn't purple enough.
---
The Witch's Heart – Halloween Cocktail
Original recipe found here.
Image source: The Flavor Bender
Ingredients
1 jigger apple brandy or apple vodka chilled
1 tsp grenadine
2 jiggers (or to top up) Homemade Blackberry Shimmery Liqueur (see notes) chilled
Powdered dry ice optional
Martini glass to serve
Directions
Add about 1/2 – 1 tsp of powdered dry ice to the bottom of the glass (optional).
Place the apple brandy and purple shimmery liqueur in a shaker.
Add 1 ice cube and shake for a few seconds to chill the drink.
Strain the drink into a martini glass.
Top up with more purple shimmery liqueur if necessary.
Pour 1 tsp of grenadine syrup, about an inch from the surface of the drink – the grenadine should sink to the bottom, creating a "bleeding" effect.
Add about 1/2 tsp of powdered dry ice on top and serve with a stirrer, so that your guests can stir the "potion" to create that shimmery, smoky effect.
---
Witches' Brew — A Halloween Cocktail
Editor's note: As you can see (if you click the link and go to the original recipe site), I have edited the name of this cocktail. I don't want to call anyone out or anything, but anyone who knows me will know how crazy it makes me when the plural form of witches is used without the possessive form or even the singular possessive form (witch's). If one simply leaves it as "Witches," then "Brew" becomes a verb. Makes. Me. Craaazaaay!! LOL. Okay, I'm done. Now, back to the recipe.
Original recipe found here.
Image source: Sprinkles and Sprouts
Ingredients
To rim the glass:
1 fresh lime
3 drops purple food colouring
1 tablespoon sugar
For the cocktail:
½ cup vodka
⅓ cup lime juice (see note 1)
¼ cup raspberry liqueur
Directions
Start by preparing the shot glasses.
Cut the lime in half and squeeze the juice together into a saucer.
Add the purple food colouring and mix with a cocktail stick.
Place the sugar in a second saucer.
Dip the shot glasses into the lime juice and then into the sugar.
Set to one side.
Pour the ingredients into a cocktail shaker. Add the ice.
Shake well.
Strain into the prepared shot glass.
Notes
To turn this shooter into a long drink replace the ⅓ cup lime juice with a 1 cup of citrus soda and serve in a highball with crushed ice.
---
Cauldron Cocktail Halloween Drink
Original recipe found here.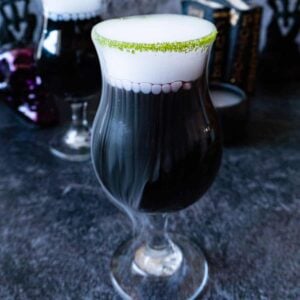 Image source: A Table Full of Joy
Ingredients
2 oz Bacardi Rum
1 Sprite Mini Can (7.5 oz)
3 oz cranberry juice
Black Food Gel
Dry Ice*
Sugar Sprinkles
Directions
Swipe the rim of your glass with a little Sprite.
Dip rim of glass into sprinkles. I find it easy if you place the sprinkles on a plate and then spin the glass rim in the sprinkles.
In sugar rimmed cup add rum, cranberry juice, Sprite, and a little black food gel. Stir.
Using tongs place a small piece of dry ice in the glass.
---
---
Bonus
So, if you haven't noticed by now, I'll point out that there's a distinct witch theme happening within this blog post. And for my faithful followers who have read past Halloween party blog posts, you'll notice that there is no theme other than the party — what we wore, what we ate, what games we played, etc. So, why is it different this time around, you may or may not (and if not, how rude) ask? My little Halloween blog will be undergoing some pretty significant changes in the next few months, and this is my way of giving those who read to the very end of my posts a sneak peek at the rebrand of 13 Days of Halloween. I'm expanding on areas of interest and topics to explore, write about, and share with all of you. Stay tuned!
---
---
Until next time . . .
---
Happy Haunting

image source
---
For Munoz
This will forever be my absolute favorite picture of you. Rest in Peace.
---
---