Welcome to the 13 Days of Halloween
The Retro Series
So, in yesterday's post, "Pumpkin Carving: a day in the 13, I talked about how a trip down memory lane inspired me to bring this year's countdown back to simpler times, and so "The Retro Series" in our countdown was created. And in today's post, I'll be chatting about, yep, you guessed it — skeletons! Now, how does one effectively talk about skeletons in a Halloween blog post? I'd say the answer to that question is it depends on which direction the author wants to take the topic. Some examples: Skeletons in one's closet, X-ray stuff, grave digging, or an exploration of the 206 bones that make up our bodies. Hmmm . . . what . . . to . . . doooo. 
The adult human skeleton is made up of 206 bones that provide structure for our bodies . . . Just kidding! I'm probably going to go with grave digging for today's theme in the 13 days. 
But, before we get started, I'm going to tell you a little story about my fascination with bones — particularly skulls.
Storytime. When I was like 11 or 12 years old, my parents, sister, and I visited my grandparents (mum's side) in South Dakota. And one of my favorite things to do when visiting was to take exploratory hikes with gramps. This one particular hike had us going through a wooded area, and I remember the path being covered with pine needles and fallen leaves, lots of dirt, and very little grass. I came across a small animal skull that day, and it intrigued me. Gramps told me it was a Coyote skull (years later, I found it was more likely that of a small dog), and much to my mum's dismay, I packed it up and brought it home. The skull eventually "disappeared, but I never forgot about it."
Then many, many years later, during a visit with Unc, he gave me a chipmunk skull.
He told me he remembered the story about the "coyote" skull and thought it was fitting that I have it. And at that moment, I was just about as excited as the 11-year-old version of me had been, so I packed it up and brought it home. Still have it too. Let's get started . . .
In this post
song of the day
skeleton makeup DIY's
dinner and a movie

Song of the Day
On the first day of the countdown, I text all my kids "Happy First Day of the 13 Days of Halloween!" And my oldest son text me this song. I had this damn song stuck in my head for the next 2 days! So, I thought it only fitting that I share it now with you all.
---
---
---
Skeleton Makeup DIY's
For me, there's nothing creepier than skull makeup that is done well. There's just something about the blackened eyes and decaying mouth that gives such an ominous feel to any costume. Like, if your skull makeup is on point, you can literally wear anything and still look spooky AF. Here are a selection of tutorials that I found to be creepy good.
---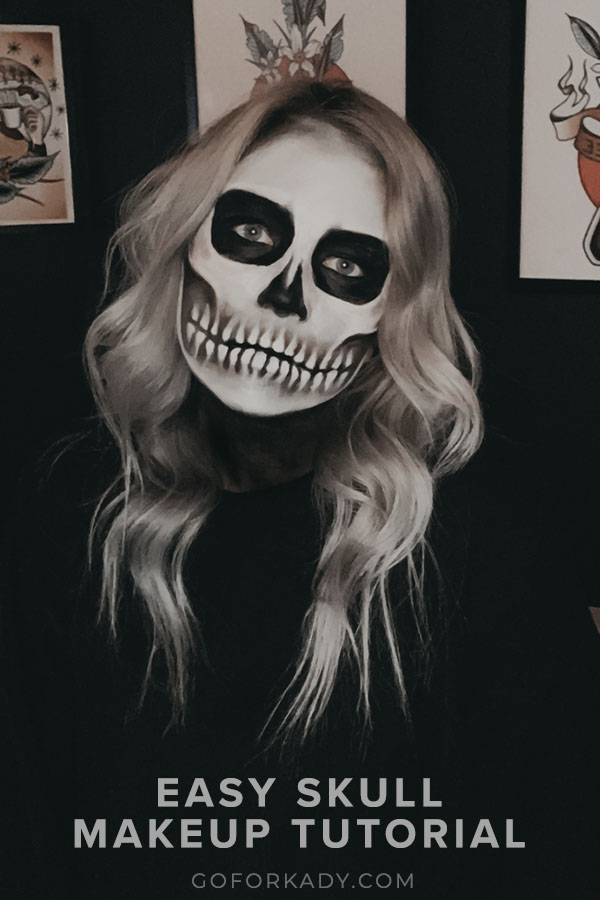 Click here for tutorial.
---
---
Click here for tutorial.
---
---
---
And, of course, as you can see in some of the tutorials, costume contacts bring the creepy vibe up to a whole 'nother level!
---
---
---
Dinner
There's just some nights when you want to simply order Chinese takeout, curl up on the couch,  and watch a scary movie! That's why I'm keeping tonight's menu simple. There are many steps to this recipe, but — oh my goddess — so worth the effort! And part of the recipe can be made earlier in the day. So, make these and pair them with a lovely red wine or a chocolate stout. Enjoy!
MELTING CHOCOLATE SKULLS
Original recipe found here.
Image source: Sugar Hero
Ingredients
FOR THE BROWNIES:
4 oz unsalted butter
8 oz granulated sugar, (1 cup + 2 TBSP)
2 oz unsweetened cocoa powder, (2/3 cups, I used a mix of regular and black cocoa)
½ tsp salt
½ tsp baking powder
2 tsp vanilla extract
2 large eggs
¼ cup water
3.37 oz all-purpose flour, (3/4 cup)
2 pints fresh raspberries
FOR THE SKULLS AND RED GANACHE:
Large 3D skull candy mold
20 oz white candy coating
24 oz red candy coating
12 fl oz whipping cream, or heavy cream
Directions
TO MAKE THE BROWNIES:
Preheat the oven to 350 F. Line an 8×8-inch pan with foil, and spray the foil with nonstick cooking spray.
Melt the butter in a large bowl in the microwave. Once the butter is melted, stir in the granulated sugar until well-mixed.
Sift the cocoa over the bowl, and add the salt, baking powder, and vanilla, and stir well.
Add the eggs one at a time, whisking well after each addition, then whisk in the water. After the water is added, the mixture should look glossy and no longer grainy.
Finally, stir in the flour, stirring until no streak of flour remain.
Scrape the batter into the prepared pan and smooth it into an even layer.
Press fresh raspberries into the top of the brownie batter, evenly spaced out, and gently use a spatula to smooth the top of the brownies. You'll probably only use 20-25 raspberries—reserve the rest for when you're assembling the dessert.
Bake the pan at 350 F for 25-27 minutes, until the brownies are puffed, pulling away slightly from the sides of the pan, and a toothpick inserted into the center comes out with just a few moist crumbs attached.
Cool completely before using. The brownies keep very well, so they can be made several days in advance and kept, well-wrapped in the refrigerator, until you're ready to assemble the skulls.
TO MAKE THE WHITE CHOCOLATE SKULLS:
Place the white candy coating in a large microwave-safe bowl.
Microwave the coating in 30-second increments, stirring after every 30 seconds to prevent overheating.
Let the melted coating cool until it is no longer warm, but is still fluid. It should thicken a bit as it gets closer to room temperature. This will make it easier to get a good coating on the mold in one layer.
When it is the right temperature, pour several generous spoonfuls of white coating into each cavity of a clean, dry 3D skull mold.
Use a clean paintbrush to paint the coating up the sides of the mold. The goal is to the white chocolate layer thick enough to be able to assemble the skulls without cracking, but as thin as possible, so the warm ganache melts it easily. If you have a lot of excess coating in the mold, turn it upside-down and let the excess drip out.
Scrape an offset spatula or knife around the top edges of the mold to remove any excess coating and make a clean line around the edge.
Refrigerate the mold to set the coating completely, for about 20 minutes.
Once set, gently flex the mold to loosen the skull. If it's fully set, you should be able to grip the inside of each piece with your fingers and gently pull them out. If you have trouble, don't force it—instead put the mold in the freezer for 1-2 minutes, then try again.
Repeat until you have enough piece to make 8 full skulls.
Reserve any extra white coating for later.
TO ASSEMBLE:
Cut 8 brownie bars that will easily fit inside the hollow skulls. (Mine were about 1.5" x 3", but yours might vary depending on your specific mold.)
Set the bars aside, and crumble up the remaining brownies to make brownie "dirt."
Divide the brownie dirt between 8 wide, shallow bowls. (Dessert plates with a high lip will also work.)
Add a few fresh raspberries scattered around the dirt.
Place the bottom of a skull on top of the dirt on each plate, and put one of the brownie bars inside each hollow skull.
Add fresh raspberries on top.
Re-melt the extra white coating, and place it in a small piping bag or paper cone.
Pipe a thin layer of white coating around the edges of the skull, and carefully place the top of the skull on the base. Run your finger along the edge to remove any excess coating and make it smooth.
Combine the red candy coating and cream in a large bowl. Microwave in 30 second intervals, whisking often to prevent overheating. You want the red "blood" to be completely smooth and fluid, and also hot to the touch—even bubbling a bit around the edges is okay!
Immediately transfer the red ganache to a container with a spout, and pour it on top of a white chocolate skull.
Continue to pour as the heat from the ganache melts the white chocolate and causes the skull to disintegrate, revealing the brownies and berries inside. Enjoy while it is warm!
The red ganache can be made hours or even days in advance—just press a piece of plastic wrap directly on top so it doesn't form a skin.
Reheat right before serving, until hot, and then pour as described above.
---
---
---
Movie
Tonight's movie of choice is Army of Darkness, the 3rd in the Evil Dead franchise, because, well, the army is a bunch of skeletons, and it freaks me the feck out! But damned if Bruce Campbell and the humor/comedic moments don't make it worth the scare!
---
---
Until next time . . .
---
---
Happy Haunting
Featured image source found here.