Welcome to the 13 Days of Halloween
I don't know about the rest of you but the chillier than norm temps (at least in my neck of the woods) have me ready for fall and all things Halloween. So, we're going to dive right in with some pre 13 Days' posts to help all you creepsters get in a spooky mood (insert eyebrow wiggle here). Not that we need any coaxing to get spooky–amiright? And you can tell the minute other people
start to "feel fall" because memes like this one start to circulate now. I have a coffee mug that has a fall to-do list on it (that I'll share an image of somewhere in this post) and number 3 on the list is "murder someone," fitting, since my mood of the past couple of weeks can be described as a wee bit "murdery," thus the idea for this post. Don't worry, no one died . . . Anywho, as many of you who follow this amazingly kickass blog are aware, the BFFs and I throw epic Halloween parties. Unless, of course, Jen decides to have a baby that year (all of her lil dudes were born in October), then party mode is paused until the following year. And so, in the spirit of all things murdery, today's post is going to be all about planning and hosting a murder mystery party. Now, some of you might be asking—what is a murder mystery party—for those of you who are, click here, please. Now, for those of you who are still with me on this idea—Delish, right?
Growing up, one of my favorite games to play was the board game, Clue. I was quite good at the deducing, too, I might add, much to my nephew's (who's younger than me by a mere 3 months and never lets me forget it) dismay. So, when the movie
Clue
came about, I thought—well, this is fantastic!
Tim Curry was sofa king brilliant in that movie. But, of course, he is in everything he's done—except for the movie It—because Pennywise is a little bitch ass clown. And how do I feel about clowns, bats and ghouls? Click here to see if you answered correctly. But that's a post for another time (because I'll be doing a 13 Days post about the movie). I know!! I can hardly believe it either but there is a reason, and she's a pretty cool one. More on that later. Because today, we will not be planning a murder mystery party involving fucking clowns—unless you really want to, and then, you're on your own! One year, I wrote a murder party for the BFFs' combined birthday celebration. That was no easy task, but it actually turned out pretty cool, and it was a good time. I will not, however, write another if we decide to do this again. Can you say murder mystery kit? Comes complete with everything you need to have a fun night filled with murder and mayhem—just add victim! We'll take a look at a couple of my faves (kits, not victims) later in this post. Let's get started.
(Thanks again, Bridget)
In this post
deciding on a murderous theme
pick your poison
Deciding on a Murderous Theme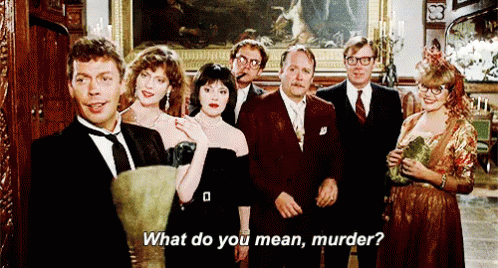 The first thing you want to do (after deciding you're going to have a murder mystery party) is to decide on a theme. Since it's around spooky time, I'm going to assume that your murder party is Halloween themed: Haunted Hotel Homicide, Murder at Skull Manor, etc. However, there's no saying it has to be Halloween themed in order to be a party worthy of spooky season, I mean, it's a damn murder party, it's already chock full of creepy vibes. Here are some suggestions for non-Halloween themed murders: Like, Oh My Gosh . . . Murder (the 80's) and Murder at the Toadwart Inn (Harry Potter fans).
So, if you want to host a murderous party and use a kit, My Mystery Party is a good place to check out. (It's also where you can find the above mentioned murderous party themes.) The cool thing about this site is that they offer both boxed kits and downloadable ones, guest website, and video trailers. They have themes for all ages, all gender combos, and a guest list range of 5 to 2000+ (Zooks! That's a guest range! Could you imagine–2000 guests?!)
If you're digging the convenience of the downloadable murderous parties, Playing with Murder is another great site to shop. They also offer 30 min versions that would be a groovy little ice breaker for your party. Some of the themes they offer are Zombie Cannibal Asylum, An Inquisition of Vampires, The Thing in the Cellar, and Toy Chest Trauma (yikes!).
Another downloadable murderous party site is Night of Mystery. What I really liked about this site is the variety—kids, teens, non-murder, all female, all male, LGBT female, LGBT male, and even escape room themes. Some of the themes that sound like a good time: Trailer Park Tragedy (described as "A night of ill-mannered, irresponsible and intoxicated trailer park patrons"—good times), Murder High Reunion (total 80's), Murder at the Juice Joint (roaring 20's mob), and Ho Ho Homicide ("A night of Northpole naughtiness").
Freebies
Murder, She Wrote (a Netflix binge-worthy game)
Ok, so the gist of this free murder mystery party is providing each guest with pages from Jessica's (Angela Landsbury's character) notebook (free printable provided) and binge-watch episodes of "Murder, She Wrote", record clues from the episode/s in your handy dandy notebook, and—this is super important–=pause the episode before the murderer is revealed. Whoever correctly guesses "whodunnit" wins. Now, for me, if I wind up at a party like this, you better be providing copious amounts of alcohol and some really good cheese (the stinkier, the better) to keep me from 86ing that there party. If, however, this type of Halloween party seems right up you and your posse's alley—cool—glad I could help. Zahls I'm zaying iz, if you're going to have a party where you and the crew are going to watch a movie (as the main form of entertainment) then it should be something more like the movie game I provided in The Sanderson Sisters. You. Are. Welcome.
The Butler Kicks the Bucket is another free murderous game that is a spontaneous partaking in murderous playtime. For this one, guests are given character cards and name tags after the butler "kicks it". This game seems fun and easy with a low-level amount of planning and commitment.
The Romanian Uranium Mystery is the quintessential mystery dinner theatre experience. Now, not a lot of people are fans of scripted murder mystery parties but if the thespian in you is dying to "chew the scenery", then this freebie is the one for you.
Helpful tips on choosing a murderous game from
Dinner and a Murder
Look for a theme that you think your guests would enjoy.
Now, reality dictates that you will not be able to please all of the people all of the time. But as Winona, Janeane, Steve, and Ethan explained—Reality Bites! Don't overthink it. Just pick something fun and with minimal prep and remember, it's going to be the party people will be talking about for quite some time to come—do you want them to be saying it sucked or that it was epic? Totally your choice, my dudes.
Look for a game that is easy to host.
Most of the good games are purchased from the internet and these will have very few hosting duties associated with the game, allowing the host/ess to participate as a character also. If the host guide reads like a technical manual move the hell on.
Do not purchase a game that does not have an introductory file that you can read before purchasing.
All games are not created equal. There are good ones and bad ones out there. If a site cannot give you a partial glimpse of the actual game, then they are very likely hiding something. The game's introduction should contain the host guide and other details that will give you a good feel for how it will work.
While you are at the web site, also look for customer comments.
Of course, we all know that they are not going to post negative comments on the site and could, in fact, make up comments. If you only see one or two line comments, be leery. Customer feedback can also be a great way to find ideas for throwing your own party.
Murder Mystery Game Kit Contents:
A good kit will have everything you need to play the game. You should not have to go out and purchase elaborate props. It should have invitations, host guide, characters & evidence at the least. Game money is a plus that adds a whole new dimension to the game experience.
Either the kit or the web site should also give you party theme ideas.
Everything from menu, recipes, decorations, hairstyles, music, and costumes can give a host very good ideas for their party.
If your kit does not contain certificates, you can design some yourself. It is always nice to be rewarded in the game for solving the murder, best costume, best performer, blah, blah, blah.
Tips to Host a Murderous Party as shared by
Chrystina Noel
(I'm digging the "y" in the spelling of her name. It makes me think—hmmm, should I—but then, I gotta say, I am partial to the C-h-r-i-s-t-i-n-e spelling. It's classic. As classic as the demonically possessed car of the same name!)
Much like myself and the demonically possessed car, personality and accountability are more important when assigning characters than gender and here's why: characters should be assigned to people that are either similar to their personality or someone they would enjoy playing. The more outgoing a person is, the more boisterous of a character they can (comfortably) be assigned. I also always make sure that the main characters are played by people that I trust to show up. On time (yeah, I'm not this part). And engaged (but I am this part).
If your murder kit supports 6-20+ characters, and you don't have 20+ characters, start cutting names from the bottom of the list first (cuz those are all the "filler" characters, easily removed, they lift right out).
Please enjoy this quick, yet helpful, mystery party handout.
Pick Your Poison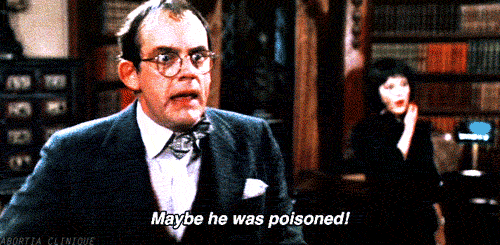 Now usually for this section of the post, I'd share some cool DIYs and recipes for your kickass Halloween party. But since these mentioned categories will be more than likely specific to whatever theme you choose, I feel it would either not be helpful or it would make for one helluva long post. Don't push the panic button just yet; if you choose a good kit then costume suggestions will more than likely be included for the characters (as mentioned above in one of the very helpful tips I provided). AND are the responsibility of each guest, I might add. Same goes for food—whether it be extravagant or minimal, the choice is up to you and should fit with the theme of the murderous party. However, never one to let an opportunity to share some bevvy recipes pass me by, I've got a couple ideas.
Black Widow Cocktail
(recipe by Bobby Pathammavong found here)
There's some involvement with this one but for anyone who's a fan of blackberries (and vodka), she's worth it.
Ingredients
(For Devilish Blackberry Juice)
2 quarts of fresh blackberries or 2 (16 ounce) packages of frozen berries
½ cup of water
(For Spooky Simple Syrup)
1 cup water
1 cup sugar
(For Black Widow Cocktail)
6 oz blackberry juice
1 oz simple syrup
2 oz vodka
ice
blackberries for garnish (frozen or fresh)
Directions
(Devilish Blackberry Juice)
Thoroughly rinse or thaw berries and place them into a saucepan with water. Bring to a boil. Reduce the heat and let simmer for about 5-10 mins, until all the blackberries are softened.
Remove from heat and mash the blackberries with a potato masher. Pour the juice into a bowl or jar through a large wire mesh strainer or a milk bag. Discard the pulp. Store the juice in the refrigerator for up to 3 days in an airtight container. Or process in a water bath canner for about 10 minutes in mason jars.
(Spooky Simple Syrup)
Combine sugar and water in a medium saucepan and bring to a boil. Continually stir until the sugar has completely dissolved. Promptly remove from heat and allow syrup to cool. Syrup can be stored in a glass jar for up to 1 month in the refrigerator.
(Black Widow Cocktail):
To make this spooky sip, combine blackberry juice, simple syrup, vodka and ice in a lowball glass. Stir and drink at your own risk. Garnish with blackberries.
Pomegranate Poison Punch
(recipe by the Good Housekeeping test kitchen found here)
Another fruity vodka concoction with a wee bit of carbonation. The addition of spiders should be a personal choice–right, Jen?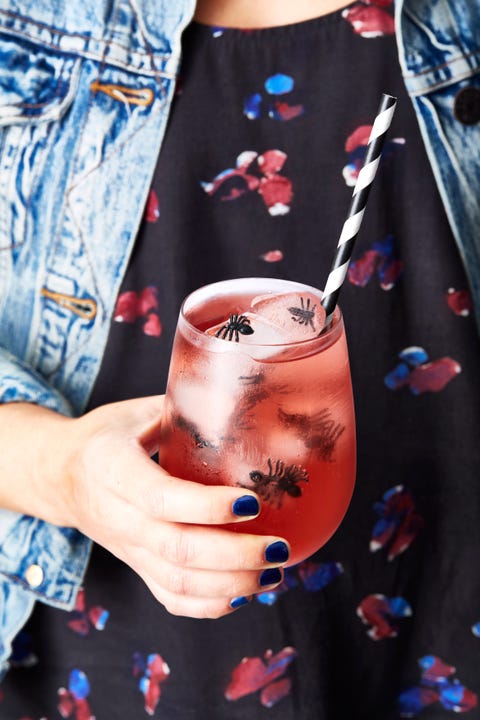 Ingredients
1 1/2 oz. (3 tbsp.) vodka
3 oz. pomegranate juice
6 oz. Seltzer
Directions
Combine vodka with pomegranate juice.
Pour over ice and top with seltzer.
The Red Woman
(recipe by Carol Jones found here)
The inspiration for this drink is a character from "Game of Thrones"—cool—but I'm thinking of another red woman, Miss Scarlet. However, unlike Miss Scarlet, this cocktail is no lady!
Ingredients
1.5

oz

c

herry vodka

1

oz

s

ilver tequila

1

oz

Fireball

1

tbsp

Grenadine

3

oz

p

ineapple juice

sanding sugar

simple syrup
Instructions
Using 2 appetizer plates pour your simple syrup on one plate and the silver sanding sugar on the other.

Dip your glass into the simple syrup and then into the sanding sugar.

Set to the side.

Fill with glass with ice 3/4 of the way full.

In a bar shaker add 3-4 pieces of ice, vodka, tequila, Fireball, and Grenadine — shake well to combine.

Top off with pineapple juice.
Bonus
Honestly, no explanation needed for this one.
Until next time . . .
Happy Haunting