Welcome to the 13 Days of Halloween
"They're demonically delish."
So, today's post was inspired by a video my favorite minion shared with me (see SOD). I love this video so hard for two reasons–A) it's poignant lyrics all about killing you that way and 2) the country music ballad shutdown–boom!  As a matter of fact, I was actually going to title this post "I'll kill you that way" but upon further reflection, wondered just exactly what kind of an audience that would attract and thought better of it. You could say, I was dead set against it. Haha. I'm right, though–about the questionable audience–scar-aaaaaaaay! Anywho, today's post is dedicated to the bad boys of horror, you know who I'm talkin' about–Jason, Michael, Freddy, Ghostface, and Leatherface. I've done past posts including Jason, Freddy, and Ghostface, but I've never done one including Michael or Leatherface. Now, in honor of the 40th anniversary of John Carpenter's Halloween, I will definitely be dedicating a day in the 13 all to Michael, so stay tuned for that one. Leatherface, however, not so much. Let's get started . . .
In this post
song of the day
something fun
movies of the day
what's for dinner
Song of the Day
Something Fun
Movie/s of the Day
You pick . . . but I'm offering up only the originals–no sequels of remakes.
Leatherface
---
Michael
---
Freddy
---
Jason
---
Ghostface
Ugh! I love the voiceover dude in these earlier trailers. Sofa king intense! 
What's for Dinner
Tonight's menu consists of ribs (extra messy), a devilishly delish layered margarita, and a pie that is disturbing to the eye, but yummy to the taste buds. And since today's movie selections are clearly for adult-ish audiences only, tonight's bevy has some booze.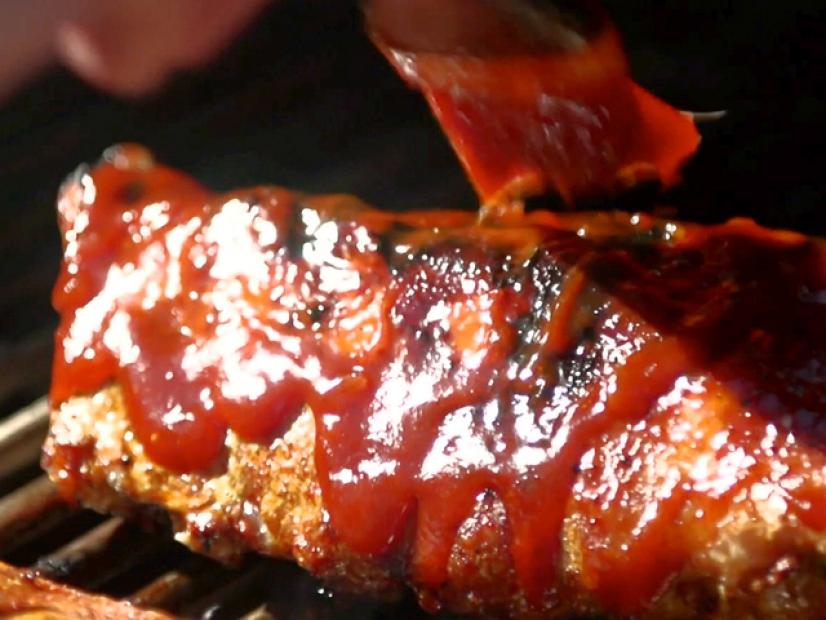 Ingredients
2 tablespoons light brown sugar
1 tablespoon dry mustard
1 tablespoon paprika
1 teaspoon smoked paprika
1 teaspoon freshly ground black pepper
1 teaspoon garlic salt
2 racks baby back pork ribs (4 pounds)
Jamie's BBQ Sauce:
1 tablespoon canola oil
2 tablespoons finely chopped onion
2 cups apple cider vinegar
1 1/2 cups ketchup
3/4 cup light brown sugar
3 tablespoons Dijon mustard
1 tablespoon Worcestershire sauce
2 teaspoons chili powder
1 teaspoon cayenne pepper
Kosher salt and freshly ground black pepper
Directions
Preheat the oven to 350 degrees F.
Mix together the brown sugar, mustard, paprika, smoked paprika, black pepper, and garlic salt together in a small bowl. Be sure to break up any lumps with your fingers. Reserve 1 tablespoon of rub in a small bowl for serving.
Remove the silver skin from the underside of the ribs by sliding your fingers under the thin membrane and pulling it off. Repeat with the second rack. Rub the ribs with the seasoning on both sides. Place in a single layer in a large roasting pan and cover tightly with heavy-duty foil. Place the roasting pan into the oven and bake until the ribs are tender, about 1 hour 15 minutes.
Preheat the grill to medium heat.
Grill the ribs on each side for 15 minutes, watching and flipping when necessary, for 30 minutes total. Baste with Jamie's BBQ Sauce the last 10 minutes. (The sauce goes on at the end because it is sugar based and you don't want to burn your ribs.)
Let the racks rest 5 minutes before slicing.
sauce.
Jamie's BBQ Sauce:
Heat the oil in a medium saucepan over medium-high heat. Add the onions and stir until softened. Add the vinegar, ketchup, brown sugar, mustard, Worcestershire sauce, chili powder, cayenne pepper, and some salt and black pepper to the saucepan and simmer on medium-low heat until thickened, about 35 minutes.
Ingredients
1 1/2

 

oz

 

tequila blanco

3/4

 

oz

 

lime juice

 

freshly squeezed

3/4

 

oz

 

simple syrup

 

Red wine

 

such as Cabernet or Carménère
Directions
In a shaker filled with ice, pour in tequila, lime juice, and simple syrup.

Shake until chilled and pour into glass of choice.

Set a spoon at a 45-degree angle barely placed inside of the margarita. The back of the spoon should be facing the ceiling.

Pinch the top of the wine bottle with your finger and slowly pour red wine onto the back of the spoon and let it drizzle on the surface of the margarita.

Pour until you have about 1/4 inch of red wine in the glass.
Notes
Don't have any simple syrup? Mix equal parts white sugar and water (ex: 8 oz sugar, 8 oz water) into a microwave safe container and heat until the sugar is completely dissolved. Cooking time will vary depending on how much sugar and water you're cooking. If you want to make this for a crowd, make the base ahead (tequila, simple syrup, and lime juice) and place in the fridge until you're ready to serve. Then top each glass with the red wine.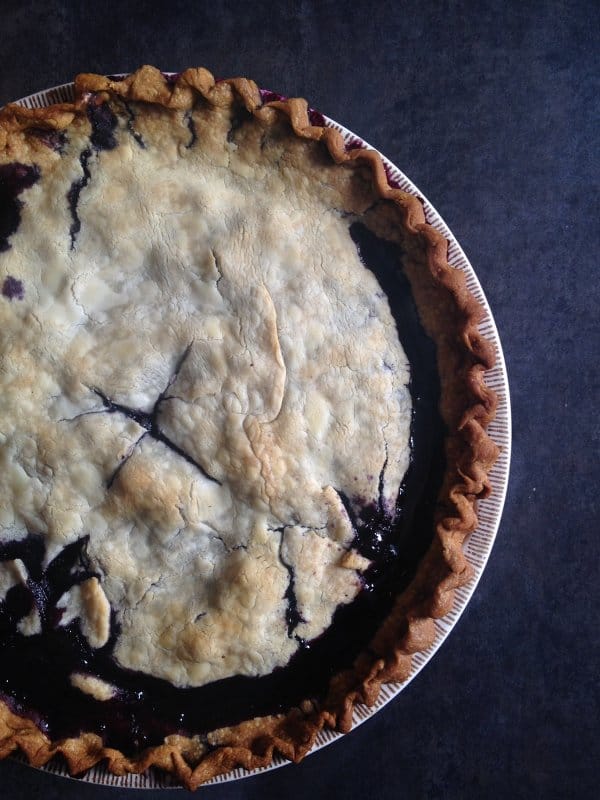 Ingredients
6

 

cups

 

wild blueberries

1/2

 

cup

 

sugar

3.5

 

ounces

 

chopped dark chocolate

Juice of half a lemon

2

 

pre-made pie dough crusts (

they're usually in the dairy section, pre-rolled. not the kind already in the pie pan in the freezer section)

Butter for brushing
Directions
Preheat oven to 350.

Line a 9-inch pie plate with one of the crusts.

In a large bowl, mash blueberries with a fork to get the juices flowing. You don't want them too mashed, leave most of them whole.

Pour sugar and lemon juice over blueberries and let sit about 10 minutes.

If the mixture is too watery remove some of the liquid. I removed about 1/2 a cup. Use your own judgment here.

Mix in the chocolate and pour the mixture into the prepared pie pan.

Top with remaining crusts and pinch the rim of the crusts together. Brush with a light coat of butter.

Bake for 60 – 65 minutes or until golden. (If the edges start to get too dark wrap aluminum foil around them)

Let sit for about 15 minutes before serving.
Theeeeeeeeen we're going to turn this deliciousness into thissssss . . .
Simply take your top pie crust and carve it into a beautiful disaster–Leathahfayyyce!
Bonus
Until next time . . .
Happy Haunting
image source for featured image: http://innerg.us