Welcome to the 13 Days of Halloween
Alright, creep peeps, here we are as promised! So, this year is the 25th anniversary of when the Sanderson Sisters were first brought back from the grave–you know–a virgin lit the black flame candle. Because of this marvelous occasion, I thought it would be fun to do another post on these, anything but, basic witches. Speaking of the 25th anniversary–did anyone catch the Hocus Pocus Anniversary Special? Good times. Although, there really was a lot of other tiresome shit going on–musical numbers and a costume contest. I mean, it was entertaining and all, but honestly, I just wanted to sit there and listen to the cast reminisce about filming back in the day. When Kathy Najimy came on stage and said, "I–smell–children!" Gahhhhh! So good! Anywho, I've got some great DIY stuff for you guys, along with some boos options for pregaming, or really, just cuz. Let's get started!
In this post
song of the day
fun facts
DIY fun
pick your poison
Song of the Day
In my Sanderson Sisters post, my SOTD was the sisters singing "I Put a Spell on you". So this time, I'm doing the same SOTD–Marilyn Manson-style. And he is rocking the shit outta it!
Fun Facts
I like fun facts because they're, well, fun. Some of the stuff chatted about in the following 2 vids were covered on the anniversary special, but all cool shizz, nonetheless. And if you missed the anniversary special–these vids are for you. You. Are. Welcome.
"Know your audience, Walt Disney company." No shit, right? What the hell were they thinking debuting this creeptastic delight in feckin' July?
---
---
Hey, look, dudes–anotha quiz! Click here to take the quiz. Share your results in the comments below!
DIY Fun
As much as I love interesting factoids, I also love me some DIYs. In this DIY section, I tried to give you guys some cool shizz for decorating and for costuming. I hope you dig them as much as I do.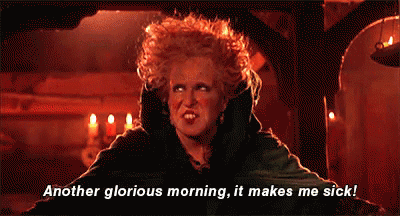 Billy Butcherson Makeup Tutorial
---
Mary Sanderson
Click here to read a step-by-step tutorial on how to do Mary Sanderson's hair and makeup.
---
Booooooooooook!
I've always wanted to have my own Book–how 'bout you? Well, now we can! Click here to check out this cool (slightly complicated) DIY.
---
Come Little Children–let's make some Hocus Pocus Slime!
This slime is so cool! Click here and make some for yourself–erm–or your kiddos. (The author of this blog post better be misquoting Shakespeare on purpose to get a laugh–anything else is simply unacceptable. Just sayin'!)
---
Pick your Poison
I found these drink ideas on Pinterest. There's one especially concocted for each of the Sanderson Sister's and quite honestly, they all sound delish. No specific measurements so you'll just have to wing it.
Bonus
BEST–SCENE–EVAH!!
Until next time . . .
Happy Haunting
Featured image source: Disney