Welcome to the 13 Days of Halloween
So, today we hit day 3 of the 13. How's everyone's Halloween celebration going so far? Costumes done? House decorated? Party plans in full swing? Well, if not, don't panic because I'm veering off course for the next couple of days so I can help inspire you creepy peeps with some spooky fun. So, stay tuned–I gotchu! But in the meantime, for today's celebration, we're spending the day with The Demon Barber of Fleet Street. Gah! So much blood, dude! But s'all good–I mean–there's gallons of blood but the theatrical approach Tim Burton took with blood spray/splatter/splooshing makes it do-able to watch for me. However, I think tonight's bonus that accompanies the movie helps make the bloodbath do-able for me. (You can thank me later.) But aside from all the blood, this is a really great movie not only because of the great storyline but also because it reunites my favorite dark and twisty duo–add Helen Bonham Carter and Alan Rickman into the mix–bonus!
In this post
song of the day
fun facts/something fun
tonight's movie
dinner, beverage, and dessert
Song of the Day
Since Sweeney Todd is, in fact, a musical, I'm not going to feature one of its songs as the SOD. Yes, I know I did use a song from Little Shop of Horrors as my SOD–but, come on–I gotta shake things up a bit. Besides In This Moment is badass and ya gotta admit, this song kinda fits the mood.
Fun Facts
Oops! (mistakes found in the movie)
During the final scene, the dried blood splatters keep moving on Sweeney's face.
The white stripe in Sweeney's head changes sides. Just before Judge Turpin arrives for a shave, the stripe is on the left side and stays there throughout the "Pretty Women" song.
When the judge is being killed he first wear trousers, then he has bare legs with socks, and when falling he has trousers again. Ooopsies! LOL
Trivia (there may or may not be a quiz later)
To prepare for the role of Adolfo Pirelli, Sacha Baron Cohen hired his personal barber as a consultant on shaving techniques and took up to sixteen hours to learn how to handle a razor.
The address on Mrs. Lovett's shop, Number 186, is a reference to the London legend of Sweeney Todd, which placed his barber shop at this very address.
Five "Harry Potter" franchise alumni appear in this film: Helena Bonham Carter (Mrs. Lovett and Bellatrix Lestrange), Alan Rickman (Judge Turpin and Severus Snape), Timothy Spall (Beadle and Peter Pettigrew), Jamie Campbell Bower (Anthony Hope and Gellert Grindelwald) and Johnny Depp (Sweeny Todd and Gellert Grindelwald).
Behind the Scenes
75 takes for one word? Well, it better be his favorite line! Hahaha!
Something Fun
Makeup Tutorial
Dig the featured image of Sweeney Todd? Well, here's a tutorial to show you how it's done!
Trivia Quiz (oh, look at that–there is a quiz!)
Wanna test your Sweeney Todd knowledge? Click here and take a quiz. I thought it was kind of a tough one. Take it for yourself and let me know what you think.
I found this meme humorous. And, dudes, let's not forget Bonham, Depp, and Rickman were all in the Alice in Wonderland movies too!
Tonight's Movie
Bonus: Movie Drinking Game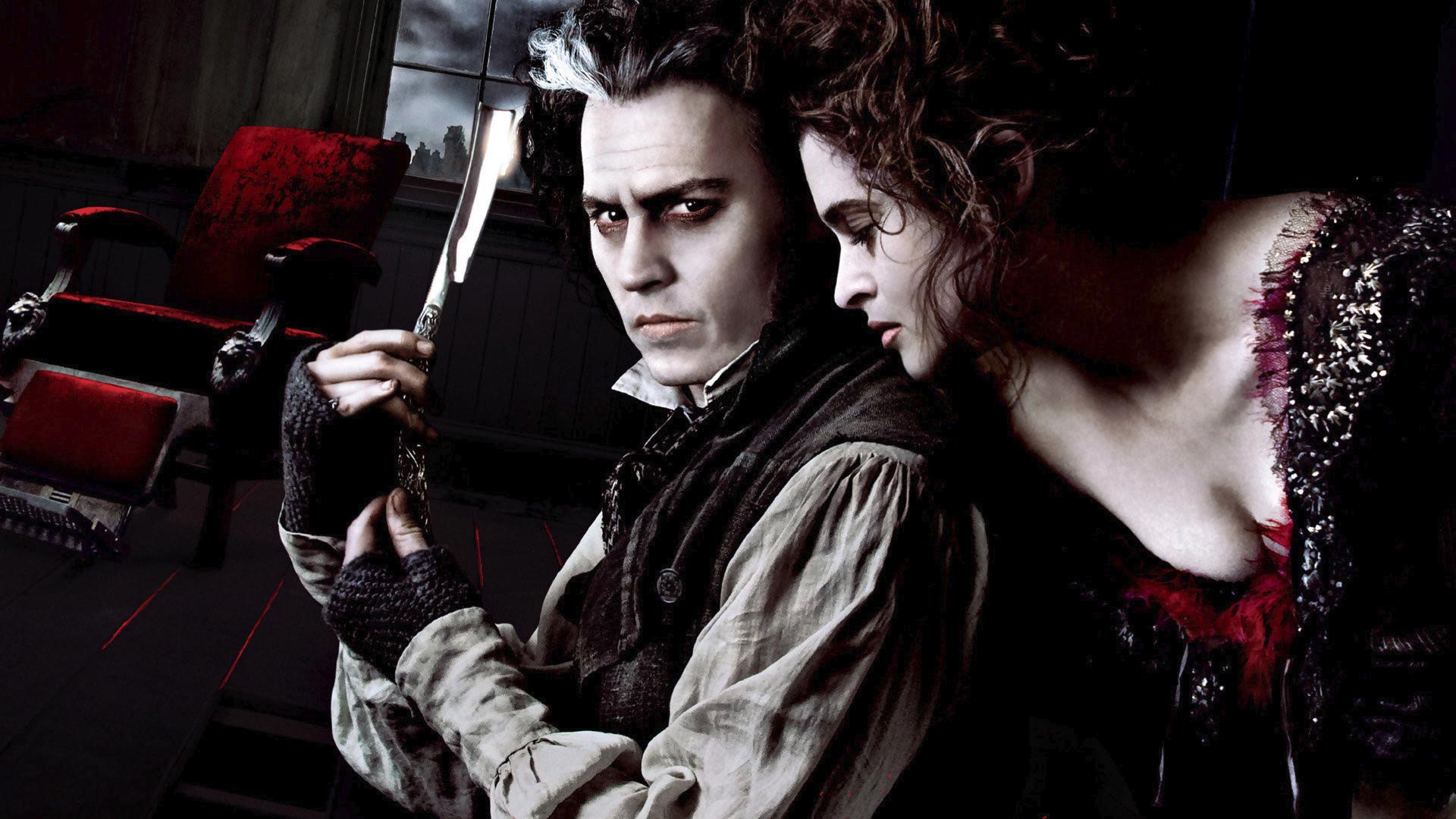 Ahh, there's nothing like a good ole drinking game to play whilst watching your chosen flick. Amirite?! For me, a drinking game is almost necessary because damn if I don't have issues with this gorefest. So, if you're like me, and need to take the edge off–bottom's up!
Drink every time:
You see blood
Helena Bonham Carter sings
Johnny Depp does something flamboyant
Drink 2x when:
A song lyric contains curse words
Anyone eats or drinks
Someone sings about "Sweeney Todd" or a "shave"
Drink 3x when:
Someone's throat gets cut with a razor blade
Dudes, drink your shizz responsibly! Original game rules found here.
Dinner, Beverage, and Dessert
So, tonight's menu is a wee bit more complicated than last night's, but I figure that's okay because it's the weekend. Let's take our time and prep a good dinner. I chose meat pies, for obvious reasons, and a lovely dessert covered in fresh blood and puss (yay!). Also, I wouldn't recommend using tonight's alcoholic beverage for the movie drinking game. I see that ending badly . . . Enjoy your dinner!
Mrs. Lovett's Meat Pie (not really but that's what we're calling 'em tonight!)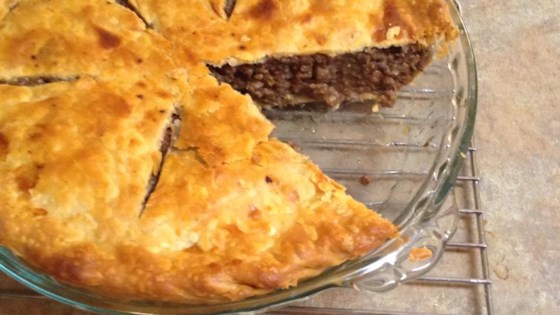 Ingredients
1 medium potato, peeled and cubed
1/2 pound ground beef
1/2 pound ground pork
1/3 clove garlic, chopped
1/2 cup chopped onion
1/4 cup water
1/2 teaspoon mustard powder
1/2 teaspoon dried thyme
1/4 teaspoon ground cloves
1 teaspoon salt
1/4 teaspoon ground black pepper
1/4 teaspoon dried sage
1 (15 ounce) package refrigerated pie crusts
Directions
Preheat the oven to 425 degrees F (220 degrees C).
Place the potato in a saucepan with enough water to cover. Bring to a boil, and cook until tender, about 5 minutes. Drain, mash, and set aside.
Meanwhile, crumble the ground beef and pork into a large saucepan, and add the garlic, onion, and water. Season with mustard powder, thyme, cloves, and salt. Cook over medium heat, stirring to crumble the meat and mix in the spices until the meat is evenly browned.
Remove from the heat, and mix in the mashed potato.
Place one of the pie crusts into a 9-inch pie plate. Fill with the meat mixture, then top with the other pie crust. Prick the top crust a few times with a knife to vent steam. Crimp around the edges using the tines of the fork, and remove any excess dough. Cover the edges of the pie crust with aluminum foil.
Bake for 25 minutes in the preheated oven, or until the crust has browned. Serve by itself, or with a beef gravy.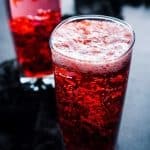 Ingredients
Raspberry Jello

 

prepared

Grape Jello

 

prepared

Ice

2

 

oz.

 

Vodka

12

 

oz.

 

Lemon Lime Soda

1

 

tbsp

 

Grenadine
Directions
Add some of the prepared jello to a collins glass, you don't want perfect squares, choppy gives it a more realistic look!

Add in ice, vodka, and soda and stir gently.

Gently pour grenadine over the back of a spoon into the glass, the grenadine will cling to the foam from the soda for an extra bloody look.
Ingredients
1 (16 ounce) package phyllo dough
1 [cup] good amount of mixed chopped nuts
1 cup butter
1 teaspoon ground cinnamon
1 cup water
1 cup white sugar
1 teaspoon vanilla extract
1/2 cup honey
red and black gel food coloring
lime curd – for puss optional
Directions
Preheat oven to 350 degrees F(175 degrees C)
Chop nuts and toss with cinnamon in a bowl then set aside.
Boil sugar and water until sugar is melted. Add vanilla and honey. Simmer for about 20 minutes. Turn off heat then set aside and let cool.
Melt 2 sticks of butter. Once melted completely, butter the bottoms and sides of an 8×8 inch pan.
Unroll phyllo dough. Cut whole stack to fit the size of the pan. I just set the pan on top of the dough and cut around it to get the shape. Cover phyllo with a dampened cloth to keep from drying out as you work. Place two sheets of dough in pan, butter thoroughly. Repeat until you have 8 sheets layered in the bottom of the pan – this will be the base for the baklava.
Sprinkle 2 – 3 tablespoons of nut mixture on top. Top with two sheets of dough, butter, nuts, layering as you go. I had about 4 layers before I got to the last layer. My last layer I used Craisins Dried Cranberries to give a tart flavor.
The top layer should be about 6 – 8 sheets deep. Using a sharp knife cut into the skin either in a diamond or square shape all the way to the bottom of the pan. I cut the baklava into 5 long rows then turned the pan and cut again for a rectangle shape.
Using the same sharp knife – in each section make deep cuts or slashes on the tops of the skin (baklava).
Your oven should be ready now to put your skin in. Bake for about 50 minutes until baklava is golden and crisp. Watch it about every 15 mins so you do not burn the dish.
Once you have removed the baklava from oven and immediately spoon sauce over it. Let cool before you add your blood.
Here I just some lime curd in a plastic bag with the end cut off very small – my cheap version of a pastry deco bag. This can be the puss. ((YESSSSSSSS!!!!!))
With a plastic knife and the gel food coloring, add some blood along the cut lines. I used black in the very center of the cut for a more dramatic look.
Lastly, I made the basic blood recipe out of Karo syrup and red food coloring for the blood splatter on the plate. I placed the plate on the ground and stood on a chair letting gravity take over. With a spoon, I just let the blood fall on the plate and slatter–super easy.
Well, there you have it, a bloody good time and some tasty eats.
Until next time . . .
Happy Haunting