Welcome to the 13 Days of Halloween
So if you'll remember from last year's 13 Days, I dabbled a wee bit with double-feature mashups. And since it's the weekend, I thought I'd give it another go. The 2 movies we're featuring today are Tim Burton's Frankenweenie and ParaNorman, directed by Chris Butler and Sam Fell. By now, you guys know I'm a huge Tim Burton fan and when watching Frankenweenie for the first time, was completely enchanted. ParaNorman, however, took me a while to warm up to and finally get around to watching. But honestly, I really dug the storyline. If you haven't given this movie a look-see yet, I highly recommend you do. Good stuff. Today was a busy-ass day full of work, errands, and chores. Blah–blah–blah (and I mean that in a non-Dracula-type-of-way). Anywho, let's get this double-feature mashup started.
In this post
song of the day
something fun
movie of the day
menu
Song of the Day
"Must be the Season of the Witch"–hell yeah, it is! This song was featured in one of the ParaNorman trailers and then sang by the cast during a school play. I dig it.
Bonus
Color me with a graveyard tan, but I think the best part of this movie is the pet cemetery. So, I thought this song was a fitting choice for Frankenweenie representation.
Something Fun
ParaNorman Trivia
First things first. Much like the Tim Burton movies have been tied together within fan theories, so too have the Laika movies. Click here to check it out.
ParaNorman was the first film that used full-color 3D printers for animation.
Jodelle Ferland plays a character accused and burned for witchcraft. She's played a character like this before–Alessa in Silent Hill (2006).
The ringtone of Norman's phone is the Halloween theme song.
After the angry mob comes to terms with the zombies, Norman asks to borrow his father's car. Norman and his father are driving down the street past a neon sign that says "witchy wieners"– the "w" in witchy flickers out leaving a humourous result. ((Giggle))


---
Frankenweenie
Now, I've already talked about this fan theory in my Corpse Bride Nightmare post so I won't mention it here again. But I will touch on some other fun little tidbits.
If you look at the tombstones in the pet cemetery, you'll see one for Zero.
Another fun thing you'll find in the cemetery is a turtle named Shelley is buried there. This is a nod to Mary Shelley (the author of Frankenstein) for which the movie is loosely based. ((Cool))
Winona Ryder did her own singing. She agreed to do it when Tim Burton said the singing had to sound imperfect.
Movie of the Day
Double Feature
What's for Dinner
So for tonight's menu, I chose a combination of eats and treats that I thought represented both movies. Ummm, btw–the Paranormal Parfaits are delish!! Enjoy.
Ingredients
8 ozs. Thinly sliced deli ham
8 ozs. Thinly sliced deli turkey
1/4 cup Crumbled bacon
1/2 cup Mayonnaise
1 tsp. Brown mustard
1 small Gerkin pickle
2 Tbsp. Chives, chopped
16 slices English muffin sandwich bread
8 slices Sargento® Mild Cheddar Cheese Slices
1/2 cup Ketchup or hot sauce
Directions
In a food processor bowl, add deli ham and next 6 ingredients. Pulse until finely ground and thick. Spoon mixture into a 1-quart resealable plastic bag. Cut off the tip from one bottom corner and squeeze salad mixture towards the hole.
Layout 8 bread slices on a large baking sheet. Pipe mixture onto bread slices in the shape of a tombstone, leaving edges unfilled to allow for a narrow tombstone shape. Top each with 1 slice of Sargento® Mild Cheddar Cheese. Place remaining slices of bread over cheese. Cover pan of sandwiches with plastic wrap. Refrigerate for 1 hour.
Remove sandwiches from refrigerator and unwrap. Place 1 sandwich at a time onto a cutting board and cut off sides and bottom of bread to create a clean-cut edge, making the sandwich resemble a tombstone. Discard cut sides and bottom of sandwiches.
Spoon ketchup or hot sauce into a 1-quart resealable plastic bag. Cut a small tip off one end and squeeze ketchup toward the opening.
Write the letters RIP in ketchup onto the top of the sandwiches. Carefully transfer sandwiches to a platter topped with rye chip crumbs. Serve.
Ingredients
Refrigerated breadsticks- 2 bones per breadstick
1 lb. Velveeta cheese, cubed
15 ounces Chili, no beans
10 ounces diced tomatoes with green chiles
Wilton bone pan
Directions
Bones
Cut each breadstick in half and push into pan opening
Bake at 350 degrees for about 7 minutes or until light golden brown
Cheese Dip
Combine all ingredients in a medium saucepan on the stovetop or in a microwave safe bowl
Heat until smooth, stirring occasionally and cheese is melted, about 5 minutes
Ingredients
quart orange sherbet

1 

12 ounce can frozen pineapple-orange juice concentrate

1 

1 liter bottle ginger ale, chilled

1 

1 liter bottle club soda, chilled

2 

small oranges, sliced

Dry ice (optional)
Directions
Line a 15x10x1-inch baking pan with foil. Place scoops of sherbet on baking pan. Freeze until ready to serve.
In a large punch bowl combine pineapple-orange juice concentrate, ginger ale, and club soda. Add scoops of sherbet and orange slices. If desired, add a few small pieces of dry ice to create a smoke effect.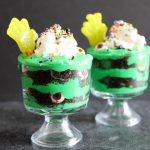 Ingredients
1

 

cup

 

sugar

2

 

whole eggs + 2 egg yolks

2

 

cup

 

milk

2

 

tablespoons

 

flour

1

 

tablespoons

 

butter

1

 

teaspoon

 

vanilla

1

 

teaspoon

 

green food coloring

15

 

chocolate sandwich cookies

 

crushed

1 

1.4 oz pkg

 

Treat Street CandiFetti Gummy Eyeballs

Treat Street CandiFetti Gummy Zombie Hands

Sweets & Treats Sweet Sprinkles Mix: Monster Mash
Directions
In a blender mix the eggs, egg yolks, sugar, milk, and flour.
Pour mixture into a pot, Add the butter, and put on medium heat, stirring occasionally.  (When the mix gets hotter, you will need to stir constantly.)
When the pudding begins to bubble, remove from heat and add vanilla extract and food coloring.
Spoon approximately half-inch of pudding into four 8-oz dessert cups. Follow with a  layer of cookie crumbs, then pudding, then cookie crumbs, and finally top with pudding.
Refrigerate for at least two hours. Top with whipped cream and enjoy!
Well, there ya have it–day #2 of the 13 is done-zo!
Until next time . . .
Happy Haunting
Featured image source: https://goo.gl/images/9RG49Z