Welcome to the 13 Days of Halloween
So for today's post, I'm doing another mashup. How 'bout this freak fest, uh?? Now, I've written a bit about Freddy in "Thanks for the Screams," and I think I made my feelings about him perrrrettay clear, so let's focus on Jason for a sec. This dude, I mean, you think he's scary with the mask on but then he takes his mask off and—hallo–even feckin' scarier!! Most people are like: Who are you?! Lemme see your face! But with this guy, everyone's like: Put your mask back on!! My eyes! My eyes!! Not saying ole Freddy's easy on the eyes by any stretch of the imagination, but he's not hiding it with a mask either–so there's that. I don't know, color me insane, but I think Jason is the freakier of the 2. You know, for year's I lived across the street from a lake called Crystal Lake. If you think I wasn't unsettled by this fact, even though it wasn't THE Crystal Lake, then you obviously don't know me at all and need to click here for my reaction. I know they made a movie out of these 2 scary dudes battling it out, but for this mashup, I'm showing the first film from each franchise–where it all began for these terror titans. Now, don't go busting my hard candies over the fact that I'm not featuring Freddy vs Jason, I personally think it's a good flick, however, I like to keep it old school when I'm looking for the reason in the season. Ya dig? Let's get started.
In this post:
song of the day
something fun
movie of the day
menu
Song of the Day
Ugh! It bums me out that I can't find the version of this that I listen to, but it's close, so it'll do. Either way, "It's got a good beat and you can dance to it."
Something Fun 
(Hahaha! I love this meme. And it's kinda true.)
Ken Kirzinger had to undergo some dental work during filming, but it would have taken too much time to remove his make-up and costume and reapply them. When he arrived at the dentist's office still dressed as Jason (without the hockey mask), people were afraid he was an escaped psychopath, and almost called the police.
Jason Voorhees has the highest kill count of any other slasher movie killer. While the actual numbers are up for debate (with copy-cat killers and kills in "demon" form), Jason's total kills are somewhere in the 150+ range.
During filming of the final battle in Freddy vs. Jason, Robert Englund's makeup was so thick that he had no idea how hot the fires on set were.  After filming he discovered that the fires were so hot that his makeup appliances had melted and bonded to his face.
The lake at Camp Crystal Lake was also being used to film the final scenes for X2: X-Men United (2003) at the same time this movie was being filmed. The two film casts even stayed at the same hotel.
Movie of the Day
I love showing original trailers. They really demonstrate the era in which these movies originated.
Double Feature
What's for Dinner
So, today's menu can either be breakfast for dinner, or since it's the weekend, brunch.
Voorhees Pancakes
So, I feel these need no recipe and very little explanation. My only input would be, more blood-like (raspberry syrup or jams) substance.
Skull Deviled Eggs
So, I think you can see where I'm going with this one. The picture shows the deviled eggs as skulls, however, it would be super easy to turn them into little Jason masks.
I found this recipe here.
INGREDIENTS
12 hard-boiled large eggs
1/4 cup mayonnaise
1/4 cup roasted sweet red pepper strips, finely chopped
2 teaspoons Dijon mustard
2 teaspoons cider vinegar
1 teaspoon paprika
1/4 teaspoon salt
1/4 teaspoon pepper
1 cup finely crushed corn chips
DIRECTIONS
Cut eggs lengthwise in half. Remove yolks, reserving whites. In a small bowl, mash yolks.
Stir in mayonnaise, peppers, mustard, vinegar, paprika, salt and pepper until blended.
Using a straw, decorate each egg to make a skull with eyes, a nose and a mouth.
Spoon or pipe yolk mixture into egg whites.
Place crushed chips in a shallow bowl. Dip each exposed yolk into chips.
Refrigerate, covered, until serving. Yield: 2 dozen.
Sausage and Egg Breakfast Pizza
I found this recipe here.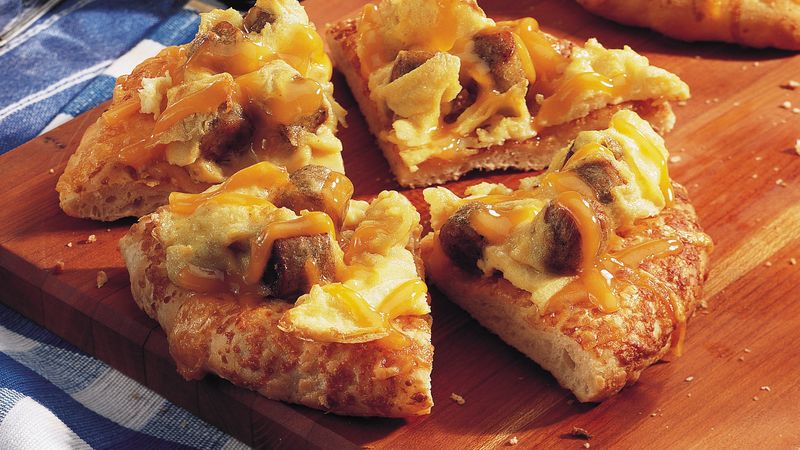 INGREDIENTS
1 package (8 ounces) frozen brown-and-serve pork sausage links, cut into 1/2-inch pieces
6 eggs, beaten
4 ready-to-serve pizza crusts, 6 inches in diameter
1 1/2 cups shredded Cheddar cheese (6 ounces)
DIRECTIONS
Heat oven to 400°F. Spray 10-inch nonstick skillet with cooking spray; heat over medium heat. Cook sausage in skillet about 3 minutes, stirring occasionally, until brown; drain. Remove sausage from skillet; set aside.
Pour eggs into skillet. As mixture begins to set at bottom and side, gently lift cooked portions with spatula so that thin, uncooked portion can flow to bottom. Do not stir. Cook 4 to 5 minutes or until eggs are thickened throughout but still moist.
Place pizza crusts on ungreased cookie sheets. Sprinkle with half of the cheese. Top each with eggs and sausage. Sprinkle with remaining cheese. Bake 10 to 12 minutes or until cheese is melted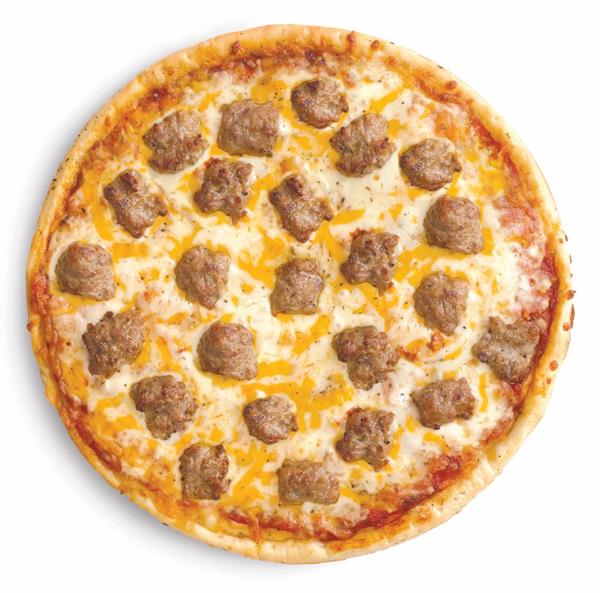 In order for the above recipe to be a nod to Nightmare on Elm Street, forming the sausage as shown in the above image is an absolute must.
Screamsicle
 I found this recipe here.
INGREDIENTS
6 oz. Orange Mango soda
1/2 oz. orange-flavored vodka
2 oz. whipped cream-flavored vodka
Red or black licorice for garnishing, optional
DIRECTIONS
Mix 6oz Cascade Ice Orange Mango with 1/2 oz of orange vodka and 2oz of whipped cream-flavored vodka in a glass with ice.
Garnish with some red or black licorice for the perfect cocktail!
Bonus
I leave you with this knee-slapper. Good times.
Until next time . . .
Happy Haunting
Featured image: Slasher Masher–Freddy vs Jason by Madeyewlook. Like the look of our featured image? Click here and learn how to do it.