Welcome to the 13 Days of Halloween
So, today's themed-day in the 13 is Beetlejuice. 'Bout time, right? I know. I know. And since it's Tim Burton day over on the Freeform channel (where they do the 13 Nights of Halloween), I thought, what better time. There are so many little things about this whole movie that I still find, to this day, enjoyable. For a while there, I was pretty sure that the Lydia Deetz character was based on me: "I, myself, am strange and unusual." Nailed it! Anywho, for years now the rumors have been flying about a Beetlejuice sequel, however, the people shoveling this shit must be scoopin' from the same shit pile that the Hocus Pocus sequel rumors are being dug up. Speculate all you want, but the most recent article I found on the matter says, "Nah." (Insert tantrum here.) Let's get started.
In today's post
song of the day
fun facts
movie
menu
Song of the Day
Now, that's a good time–amiright? This song was a fave karaoke song of mine, back in the day, and I would always act out the "black tarantula" line Beetlejuice-style. 
Fun Facts
FACT: Juliette Lewis was almost Lydia instead of Winona Ryder! Delia Deetz (Catherine O'Hara) was almost played by Anjelica Huston! Even though the movie is called "Beetlejuice," the character only has 17 minutes of screen time out of a 92-minute running time. Keaton spent two weeks filming his part.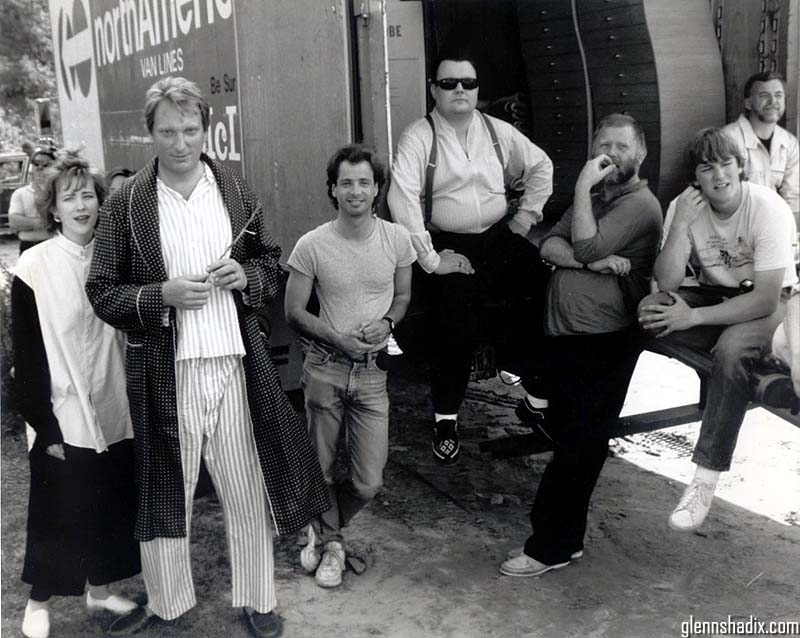 FACT: Beetlejuice was nearly called "Scared Sheetless." Warner Bros. executives didn't like the name Beetlejuice and pushed to have it changed to House Ghosts. Burton jokingly suggested "Scared Sheetless" as an alternate name and was appalled when Warner Bros. actually considered it.
FACT: According to Michael Keaton, the Beetlejuice character was described to him by director Tim Burton as "having lived in every time period but no time period." Keaton used this as the jumping-off point to create the character with such features as a shock hairdo, mold makeup, and large teeth. He said that when he first showed up to the set as Beetlejuice the crew was chanting, "Juice, Juice, Juice." This got Keaton excited for his role.
FACT: Tim Burton's original musical choice was a song by doo-wop singers The Ink Spots, but Catherine O'Hara convinced him that a calypso song would bring more energy to the scene. Actor Jeffrey Jones was the one to suggest the Belafonte song, and the cast spent five days filming the choreographed number.
Movie of the Day
Seriously, This has got to be one of the best scenes from the movie. Michael Keaton is just–pow, pa-pow, pow! Apparently, Keaton ad-libbed a lot of this scene. For instance, some of the credentials given, including being a graduate of the Harvard Business School, attending Julliard, and extensive traveling are all factual achievements of Michael Keaton. 
What's for Dinner
For tonight's menu, I've thrown together some fun stuff that kind of meshes well–I guess. The only thing that might seem a titch out of place is the shrimp cocktail. But dammit–it's Beetlejuice, for feck's sake–we gotta have shrimp cocktail! Anywho, here are the recipes. Good luck–err, I mean–enjoy.
Shrimp Cocktail
I found this recipe here.
INGREDIENTS
25-30 cooked shrimps

½ cup bottled chili sauce

¼ cup catsup

2 tablespoons fresh lemon juice

5 teaspoons bottled grated horseradish

¼ teaspoon Worcestershire sauce

few drops Tabasco sauce

1 lemon
DIRECTIONS
Set the shrimp aside.

Mix all the other ingredients and place it into a large glass cup.

Garnish with lemon slices.
Snakes (AKA sandworms) and Soup 
I found this recipe here.
INGREDIENTS
12 (12-in. x 1⁄4-in.) wooden dowels
2 can refrigerated breadstick dough
Green, orange and red food color sprays (see Note)
White from 1 large egg, lightly beaten
poppy seeds
DIRECTIONS
Position racks to divide oven into thirds. Heat oven to 375°F. You'll need 2 large baking sheets lined with nonstick foil. Grease dowels with cooking spray.
Unroll 1 can of breadstick dough; separate along perforated lines into 12 strips. Roll each strip into an 18-in. rope. Wrap each rope in a spiral around each dowel; arrange 6 dowels, evenly spaced, on each prepared baking sheet.
Lightly tint the dough spirals in blotchy tones using the spray colors with short, quick spurts; let dry slightly. Brush with egg white, then sprinkle with poppy seeds. Bake, switching position of baking sheets halfway through baking, 8 to 10 minutes, until breadsticks are golden brown. While breadsticks are hot, slide them from dowels to a wire rack to cool. Repeat with remaining dough.
To decorate: When breadsticks are cool, insert two cloves into each snake for eyes. Cut gumdrops into 1⁄8-in.-thick slices; cut slices into tongues. Use a skewer to poke a hole at tip of snake head; insert tongue.
To serve, ladle hot tomato soup into bowls and serve with snakes.
TIP
So, I'd follow the recipe and directions above, however, I would shape my snakes to look like sandworms from the movie. I'd also use black food coloring to paint on the stripes and eyes (nix the cloves). Also, make whatevs soup you like; it does not have to be tomato soup.
Shrunken Heads Cupcakes
Image courtesy Daily Marauder.
Aren't these the shit? So, there's no link to a recipe or anything like that, but I'm going to break it down for you.
CONSTRUCTION
Make red velvet cupcakes per directions of recipe or box mix of your choice.
Frost with a white, cream cheese frosting (that you've either made from scratch or purchased ready-made).
Put circles of chocolate frosting (the size of the cupcake top) onto wax paper and pop into the freezer to chill for a few minutes. This will make the frosting easier to work with when you're ready to create the face.
Once chocolate frosting is chilled and placed on top of the cupcakes, use whatever the hell you want to carve in the wrinkles/grooves, nose, eyes, and mouth.
Brush in black food coloring into the grooves for a little contouring.
Use candy eyeballs and add a little red food coloring to make them look bloodshot.
Add black licorice hair and–boom–done!
If my instructions don't make a lot of sense and you're having trouble, then I don't know what the hell to tell you. Maybe find a bakery?
Bevy
So, I'm going to go pretty old school for tonight's drink of juice. Enjoy!
Bonus
Alec Baldwin is so feckin' hairy! . . . Not that there's anything wrong with that . . . I'm just saying . . . or something.
Until next time . . .
Happy Haunting