Welcome to the 13 Days of Halloween
So, this month, we're going to be focusing on Halloween costume ideas. Although to be quite honest, if you're only now starting to think about what you're going to be for Halloween, click here. OK, maybe that was a bit harsh. I mean, we've all been there, those dry spells where you can't for the life of you conjure something epic to be for Halloween so you end up going out wearing some stupid ass orange t-shirt that says "this is my Halloween costume", or some equally dumb shit. Don't sweat it, bruh, that's what I'm here to save you from. Now, this first post in the series is focusing on the black and white party–and I'm not talking about a formal-evening-wear-slash-black-tie-optional party. No, I'm talking about "this is a black and white themed party so please come dressed in only black and white" and then all the decorations are black and white, and for the truly committed, all of the food is black and white, too. This very specific costume request can throw some people into a huge panic. Next thing they know they're creative vibes are a no-show, and they end up going to the party with a white sheet thrown over their head, praying that some ass hole at the party (like me) doesn't yell out, "Dude–your costume sucks!" No worries, though, because in this post I have put together some kick-ass (and totally do-able) costumes guaranteed to blow everyone's minds. Let's get started.
In this post
song of the day
5 black & white makeup tutorials to die for
a pre-game libation
Song of the Day
Marilyn Manson featuring my boyfriend, Johnny Depp??? Yes, please!!! (Pssst, don't tell Thor!)
---
5 Black & White Makeup Tutorials to Die for
Black Swan
I particularly love the crown/tiara she fashions–brilliant!
Black & White Film Noir
I love this look! And I really believe the key to this costume's success is being fully committed to coloring all showing parts of skin. Skies the limit on what you choose to wear, as long as it's black and white.
Black & White Comic Book Character
Alright, this shizz blows my mind! It looks so damn cool. A few words of caution if you're going to attempt something like this: practice, practice, practice. Practice days–nay–weeks before the night of the big reveal. Otherwise, you may find you've bitten off more than you can chew and find yourself arriving at whatevs a couple hours late. I speak from personal experience, peeps, and it is not fun. So, heed my warning!
AHS's Weeping Nun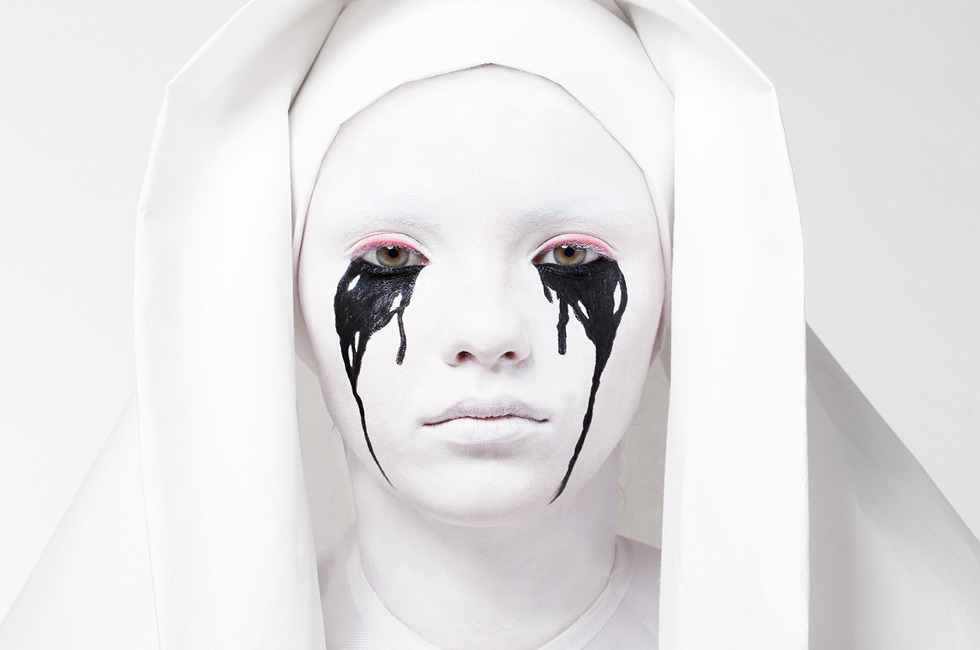 Click here to see how to create this look. (Image source: Beautylish.com)
Love this! So simple, and yet, so creepy. Bonus, ladies: you don't have to fix your hair! Whoop!
Zebra
Although she takes unnecessary time working her hair up into a ponytail, this tutorial produces one kick-ass zebra! I also like the helpful little tip she gives about scoping out some zebra pics to get an idea of how to do the stripes. A word of caution with this costume: don't be a dufus and wear zebra stripes head-to-toe. Just don't. Instead, wear all black. It'll showcase the amazing makeup job you worked so hard to create. Also, as with the comic book costume, practice before the big night.
---
Pre-Game Libation
Black Magic Shimmering Cocktail
How amazing does this drink look?! Black magic, indeed!! Although, if you're wearing white to the Halloween party, you might want to put your pre-game libation in a sippy cup–or something equally spill-proof.
(Image found here.)
Ingredients
2 ounces Black Vodka
1 ounce Cherry Juice
0.5 ounce Orange Juice
0.5 ounce Maraschino Cherry Juice
Pinch Wilton Pearl Dust
Ice
Directions
In the bottom of a shaker add your black vodka, cherry juice, orange juice, maraschino cherry juice (liquid in cherry jar), and pearl dust.
Add ice up to the fill line and using a bar spoon, stir your cocktail until chilled, about 10 seconds.
Strain into a chilled martini glass and serve.
Garnish with orange peel or maraschino cherries.
---
There ya have it, some fun ways to bring the good ole Black and White Fright Fest to another level. I hope you've enjoyed this post, and if you have any kick-ass black and white costume ideas, feel free to share in the comments below.
Until next time . . .
Happy Haunting