Welcome to the 13 Days of Halloween
Hi, all and welcome to day #2 in the 13 days. So, in the last post, we spent some time with things that freak us out–you know–make us go aaaagh!!!  And we all had a good scream. Now today, we're going to get a little bloody … maybe even a little grossed out … anything's possible. Personally, I'm not a big fan of the grosser side of Halloween and scary movies. Don't get me wrong, I'll create a bloody mess of myself, decorations, and food–I'm just not big on the whole slaughter-fest that can be a big part of scary movies. Don't judge me–I'm still mad, bad, and dangerous to know, dudes!
Let's get started.
In this post:
13 Bloody AF Decorations
Movie of the Day
Food
But first . . .
I dig it.
13 Bloody AF Decorations
This blows my damn mind! I found this fantastic horrific-ness at Thea's Krafty Kitchen. How these are made–well–it'll blow your mind! Find the tutorial here.
Isn't this cute. Personally, I would add more blood. I do like the severed fingers, however, nice touch. Found this here, but there's no DIY.
Yeah, so this is a cooler full of bloody whatever. Found this one on the Halloween Forum via The Monster Squad. There's no DIY, but all the examples are using Dollar Tree coolers. And I'm guessing maybe using that expandable foam stuff and spray painting it red and black (for shadowing).
JUST LOOK AT THIS THING!!! I love it. Here's where you can find the tutorial. The creative guru responsible for this epicness did a nice thorough job of including step-by-step instructions and images.
Cool, right? This bucket of bloody stuff is similar to the cooler example but on a grander scale. This one is also found on the Halloween Forum (a veritable cornucopia of images and ideas), courtesy of Haunt Crazy. He gives a brief how-to on this bloody prop that is easy to assemble.
"Budget Bodies" is the name of this gruesome display. Click here and Dave the Dead will show you how it's done!
So I've talked about these bloody bathroom accessories before in "Inviting Zombies to your Party", and you can find links to the tutorials there. I love these DIY hand clings; they're a lot of fun to make and they are major cost effective. Give'em a try. Now, the hand towel and shower curtain are pretty much a no-brainer: red paint and go nuts.
I found this on Pinterest. I thought it was a great idea for a photo op prop. The only thing I'd do differently is painting the knife handle black and the "blade" silver–you know–make it look a little more realistic. I was also thinking of using red cellophane for the "blood". No official DIY for this one.
Now, remember the mirror DIY I showed you in "Things that make you go AAAAGH"?
Do this to it and change it from creepy to bloody. BLOODY MARY!! Eeep!!
So, "bleeding" candles can be kinda pricey to buy. A great budget-friendly alternative is shown in the above image. I shared the how-to for these "hot messes" in "Vampires Only RSVP". Check it out!
This is some serious scare! And, of course, she's named Bloody Mary!! No tutorial for this one, but it's really not hard to decipher.
Here's a way you can take the "bloodbath" or "murder" room one step further. This idea comes to us from Marigold Designs. Apparently, you can purchase red pool dye. Hmmm . . . I wonder if Jen would let me do this to her toilet . . .
Movie of the Day
Is it scary? Eh. It really depends on how you define scary. Two things are certain, its creepiness and bloodiness. Yeah, it's a slasher movie fo' sho'. It's low budget and has a gritty feel to it, and honestly, isn't that what we love about horror movies–they're campy feel?
Food
Bloody Eggs
Aren't these cool lookin'? So, these marbled eggs are so cool! Clearly, for our Bloody Mary theme, I just make the red ones. Word of caution, though, if you don't use enough red, you're going to have pink eggs–not-so-bloody. Ya dig? Here's the recipe.
Stuffed Intestines
I know (in this picture) it doesn't look like a bloody mess of a meal, but you must be able to see it's potential–right? I mean just look at it! It looks gross, and yet, it's delish. I like to do a taco seasoned meat filling and then slather it in salsa ala bloody goodness. Click here for the recipe.
Blood Clot Biscuits
Long story short on these–they are totes yum. This picture doesn't do them justice because up close and personal, they look nice and bloody. Check it out here.
Dragon's Blood Punch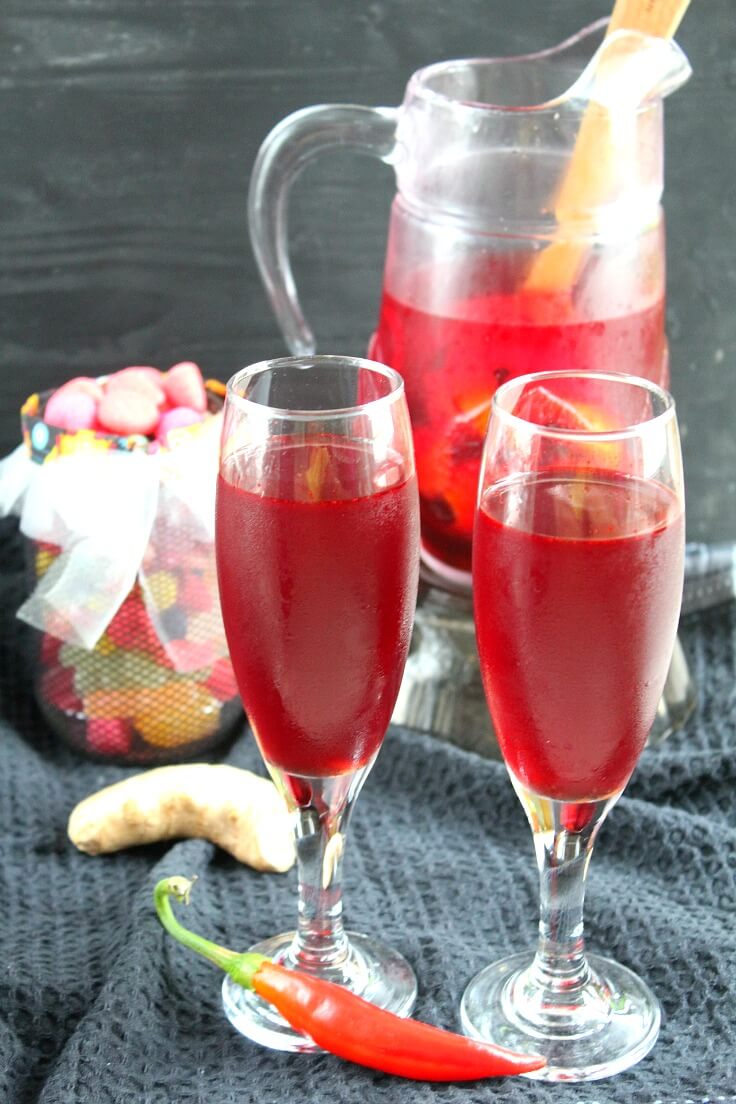 Dragon's blood punch–yum–yum–yum! Find out how to make it here.
And there you have it, day 2 of the 13 days.  I look forward to hanging out with you again tomorrow.
Until then . . .
Happy Haunting